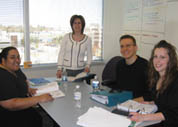 With over 200 million speakers in over 50 countries, French is definitely one of the most widely used languages in the world. Don't you think it's time you learn to speak French too?
Our ability to communicate effectively is one of the most important skills we can ever learn, but often it's the one that's most overlooked. Learning a new language can open more doors than anything else you can learn, and living in Canada means that learning French is certain to jump start your career fast!
Most people think that learning French is really difficult, but that is absolutely NOT true. In fact, through years of experience teaching French to individuals and companies, I have seen first hand how quickly people grasp the basics, and then cruise through more advanced concepts. My system of teaching conversational French is the most effective way to learn. Before you know it, you'll be speaking French as if it was your native language.
And the benefits of learning French go far beyond the workplace. By learning a new language, you open yourself up to a whole range of new experiences and cultures. I know you'll see the beauty of French culture and tradition in a way that you could never have before. Learning to speak French could be the most important and enriching thing you ever do!