French Classes in Toronto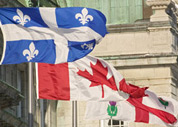 One of the most effective ways to boost your worth in Canada's volatile job market is to speak our country's second official language. I know that learning to speak French in Toronto isn't easy, but I can make the process fun and simple.
I specialize in teaching you true conversational French that you can use everyday in the real world. Living in Toronto doesn't mean that you shouldn't be equipped with the skills to communicate with other French-speaking colleagues and potential clients.
A huge majority of employers say that communication skills are essential to them when they look for new blood, and the ability to communicate in a second language can set you apart from the pack. Toronto is the most competitive job market in the country, and you need every advantage you can get! Learn to speak French and you immediately gain one of the most important soft skills that most companies are looking for.
French is one of the world's most widely spoken languages, and that gives French speakers a distinct advantage over their unilingual peers. So many Toronto natives are lacking a crucial skill by not being able to speak French, and it's time you choose to take your future seriously and learn this beautiful and elegant language.
Learn to speak French Toronto, it may be the best business decision you ever make!