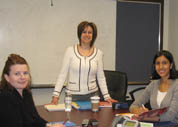 One of the most cost-effective investments you can make for your company is to invest in your employees' skills with corporate French courses. The ability of your employees to communicate in Canada's second official language can be a legal requirement and/or a perfect way to offer added value to your staff.
I've had years of experience teaching corporate French courses, and I know how to teach large groups, small groups, or even individuals one-on-one. Your employees will learn to communicate in French eloquently, but with a conversational style that will blend in to the corporate environment.
There are so many people that really want to learn French but don't have the time to pursue private instruction. Offering corporate French courses is the ideal solution. Your employees will be eager and thankful for the opportunity to learn this essential skill, with the added convenience of never having to leave the office to do it.
By investing in corporate French courses, your company is taking a giant leap forward in increasing its competitiveness in international markets, while building employees' morale and loyalty by investing in their education.